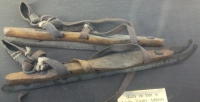 LONG REACHERS: Long distance skating in 1870 in New Brunswick
Although tour skating is unknown in Atlantic Canada at present, it seems that long distance ice skating was fairly common in the period 1860-1900 on the lakes and bays of the lower St. John River in New Brunswick. Skating was a practical form of winter transportation and there are reports of people skating on "Long Reach" skates from Saint John to Fredericton (about 130 km) in about 7 hours!
Quote from the book, SAINT JOHN- A SPORTING TRADITION, ISBN 0969221800, by Brian Flood, p 27 (currently available at GoogleBooks) :
However, on the soles of the hearty ladies and gentlemen who lived along the St John and Kennebecasis Rivers, there was a different type of skate. They used the famous "Long Reachers".

Around the year 1870, James A. Whelpley patented the Long Reach Speed Skates. Whelpley's skate factory was located at Jones Creek, on the Long Reach. Here, he turned out skates that became famous all over the continent. The skate had a blade seventeen inches long. The "woods" of the skates, at the widest point, measured less than an inch and a half. A screw protruded up a half an inch at this point. The skates were firm1y attached with heel and toe straps made of heavy leather.

Long reachers were ideally suited for the long expanse of the St John and Kennebecasis Rivers. A man on these skates could travel long distances in a relatively short period of time. From Saint John to Fredericton, by the way of the St John River, is a distance of about 80 miles (130 km). It was not uncommon for an able-bodied young man to skate this distance in a little under 7 hours.
Long Reach skates were developed around 1860 by James A Whelpley These skates were similar to modern tour skates, with a flat blade about 40 cm long and a wood platform that was strapped to regular winter boots. "Long Reachers" were also used by speed skaters across North America. In 1886 the main Whelpley skate factory moved to Keene, New Hampshire Also, JA's brother, Joseph Lyon Whelpley, had a branch office in Boston; skates sold there were labelled "J L Whelpley, Boston". However, the family business closed shortly after the death of James A. in 1893.

In the 1892 book, SKATING (*),Modern Racing Style, page 307, CG Tebbutt credits JA Whelpley with inventing an important skate design in 1859: the extended blade behind the boot heel which made it possible to skate with a more efficient style.
Norway and Sweden may be considered the headquarters of this style, and the skates which are essential to it are made at Christiania, although it must be added that Mr. Donoghue, of the United States, is certainly one of its finest exponents, if indeed he has any superior. The marked feature of the skates in question is their prolonged heel. Several persons claim the credit of introducing this. Mr. J. A. Whelpley says that thirty-two years ago (1859) he conceived the idea, and called his skates the 'Long Reach,' after the name of a fourteen mile straight stretch of the River St. John ; and since then they have been adopted in the neighbourhood and introduced on the Hudson River.
(* complete book currently available at Open Library) and locally transcribed to HTML

ad in Saint John newspaper for Long Reach Skates the pioneer of all speed skates, having a prolonged heel

By the 1870s Whelpley had taken out patents in Canada, the US, and several European countries for the "long reach" design.

There is also a slight possibility that Long Reachers may have been a prototype for Swedish touring skates in the years 1920-1960! (see the book: Stockholms Skridskidskoseglarklubb 1901-2001(SSSK 1901-2001) p 97,99): "I sluten på 20-talet kom 'kanadensarna', en kanadensisk hastighetsskridsko. Den började snart kopieras och serietillverkas för långfärdsåkning" Quick translation: "At the end of the 1920s came 'the Canadians', a Canadian speed-skate. Soon it began to be copied and mass-produced for long-distance skating"
Photo from page 99 of SSSK 1901-2001

However that photo looks more like the "Donoghue" skates from Union Hardware Co. in USA, (See: Donoghue skates at The virtual Ice Skates Museum) The Donoghues were a famous speed-skating family from Newburgh on the Hudson River. There were several skate models similar to the Long Reachers made by other companies in Canada and USA around 1890, but it seems that the Long Reachers were the first, and set the standard for both touring skates and speed skates.

Since the patents and trade marks have long since expired, it seems that the name "long reachers" is a fitting name for long distance touring skates in general: "with these skates one can reach long distances on the ice".
Photo of Long reach skates on display at Acadia University Athletic Centre.
Photo of delux Long Reachers, drilled out blades to reduce weight
A clip from the sports newpaper "Spirit of the Times", Jan. 31, 1885, p 5 about: skating in "Bluenose Land"
Another clip from the newpaper "Milwaukee Journal", Jan 30 1899, about: How The Long Reach Skate was named"

After 1900, the Canadian skating industry became dominated by hockey interests. Skate blades became shorter and shorter, and skaters were confined to smaller and smaller skating surfaces. Even competitive speed-skating became mostly "short track" ie. skating on a small hockey rink. There are only a dozen or so 400 m ovals in all of Canada. The last producer of long-blade skates in North America, Planert, closed in the 1970s.

UPDATE The lack of long tracks in Atlantic Canada has been corrected, in the winter of 2010-2011 with the opening of the 400 m ice oval on Halifax Commons. The oval is a convenient venue for practicing long-distance skating. (See the live web camera)

Hopefully, there will be a revival of long distance skating on natural ice in Atlantic Canada and Long Reachers will glide again.


UPDATE, 2019 See Joel Hornborg of Nor-Easter Adventures, Skating Around Long Island, Kennebecasis, the home of "Long Reachers".