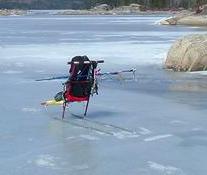 Ice photos on kicksled (spark) and touring skates, winter 2005-2006
Christmas season 2005 in Alberta has its own page: Ice photos from Alberta
Jan 13 2006, Silver Lake, Lakeville Nova Scotia Lat 45-07'N, Long 64-36'W

Silver Lake is a very small lake, only 600 m around. But today it had the highest number of nordic skaters in Nova Scotia. Eric had bought new Lundhags skates, and Elisabet (from Hjo, Sweden) tried my extra pair. Is this the Lakeville Långfärdsskridsko Klubb?
Feb 11 2006. Little Lake, Greenfield NS
It is has been a very poor ice and snow year. It was the warmest January in 100 years and many lakes had open water in late January! Today we were skiing and came to this very small lake. It only takes seconds to switch from skis to skate blades so I tried skating in about 5 cm of snow.
Feb 19 2006 Lake Charles, Shubie Park, Dartmouth, NS 44-43'N 63-33'W
Finally, some good ice! It was cold and windy but we had blue sky, sunshine and beautiful ice on this urban lake in Dartmouth.
Parts of the Shubenacadie Canal through Shubie Park are also passable. With minor portaging around the canal locks and open water it is possible to continue to Lake Micmac.
Mar 05 2006, Porters Lake and Lake Charles, NS
Lakes near Wolfville had 5 cm of snow, so I drove to Halifax and we checked out these lakes near Dartmouth.

Porters Lake (44-39'N 63-19'W) is connected to the ocean by a narrow channel at Lawrencetown Beach and thus is slightly salty and has a small tide. It is probably the only place in the world where you see people ice skating, ice sailing or kicksledding on one side of the highway and people surf boarding on the other! There was an open "roak" across the southern cove, which we crossed at the far shore. There were also strips of open water in the narrow, shallow sounds between islands.

Then we moved to Lake Charles. The ice was skatable, so we skated a 8 or 10 km loop around the lake, towing the sleds.

Mar 8-9 2006,Gaspereau Lake (44-59'N 64-32W) and Black River Lake (44-58'N 64-23'W) NS
These lakes near Wolfville had too much snow for skating but the skiing was excellent. In a few days maybe there will be excellent skating and kicksledding conditions.
Mar 12 2006,Gaspereau Lake, Lesley (from Halifax) and David (from Wolfville)
The rain and mild weather Mar 10 and 11 did melt most of the snow, but the temperature didn't go much below freezing, so there areas of wet slush, over-ice and water puddles. There were a few skatable sections, but most areas were very good for the kicksleds. We saw at least 4 eagles, plus hundreds of gulls.
Mar 19 2006,Gaspereau Lake, Lesley (from Halifax) and David (from Wolfville)
Colder weather and only a little snow in the last week made some excellent ice. We cruised around the main part of the lake on kicksleds. Unfortunatly, it looked like a blizzard was coming, so we cut the trip short before we had a chance to skate on the wonderful ice.
Mar 21 2006, Five Mile Lake ,44-54'N 63-56'W
Five Mile Lake is a nice wild lake between Windsor and Halifax. It is 10 km long but only averages 1 km wide and has numerous islands and skerries. The ice was great for both kicksledding and skating. I went 23 km on the kicksled and skated 18 km.
Mar 26 2006, Lake George ,44-56'N 64-42'W
Lake George is a medium size lake, but a shoreline trip around all the coves comes to about 9 km. It is one of the highset elevation lakes in mainland Nova Scotia (elev 220 m) so has a good ice early and late in the season. The ice was a bit too soft today for skating but we had a nice tour on kicksleds, probably the last ice of the season.
back to spark article
back to nordic skating article
back to first page of ice photos
---
David Dermott (dermott@ns.sympatico.ca)
Wolfville Ridge , Nova Scotia, Canada